Pillars 2023
The Pillars conference is the  annual meeting of its kind bringing together the three pillars of the Army Cadet Program:
The Cadet Corps
Regional Cadet Support Unit (Pacific)
The Army Cadet League of Canada BC Branch
Together we are stronger.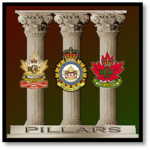 The ACLC BC Branch regrets to inform you that the Pillars 2023 conference is canceled due to a lack of attendee registration.
For those that have registered for the conference, the BC Branch will contact you regarding your reimbursement of the conference fee. The hotel has already canceled our block of hotel rooms.
We on the BC Branch Executive Board didn't come to this decision lightly. Directors from our Board have already dedicated many hours to the planning of the conference. We will now take a step back and plan training sessions for the upcoming training year, with the possibility of regional training or training via an online platform.
We would welcome and encourage everyone to submit ideas to the BC Branch, on how you would like our future Pillars/training session to take place.